Creative Discipline Ideas for Parents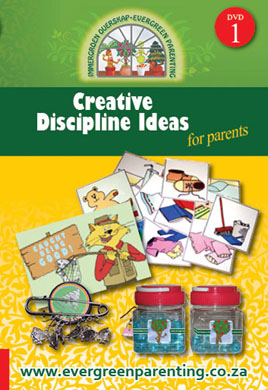 The word "discipline" has such a bad name, but this short course will equip parents with positive, light-hearted and constructive ways to correct behaviour in young children. One of the most common questions asked by parents, is: "What alternatives are there to smacking my kids?" There are many, and although painful punishment is Biblical, and goes a long way, the Bible also teaches us to love unconditionally, to instruct and to train. We all know how to use the wooden spoon, but there are other tools that contribute to the development of character in our children. This short course teaches parents how to use these creative alternatives.
If you have done the Evergreen Parenting Course by Hettie Brittz (writer of Growing Kids with Character, Growing Kids through healthy authority and "Kweek Dissipline met Deernis") – this short course is a great addition to enhance your discipline tools.
This short course is also available as a DVD. Find it here
Course Features
Lectures

24

Quizzes

0

Duration

48 min 58 sec

Skill level

Parents that have completed the Evergreen Parenting course

Language

English

Students

6

Certificate

No

Assessments

Yes
Introduction

An overview of who would benefit to use these discipline tools as well as guidelines

Caught being good

Ideas on how to reward good behavior. Ideal for kids ages 3 - 12.

From pizzas to camping

Ideas on how to practice new skills. Ideal for kids ages 3 - 13.

Food fights

Ideas on how to teach better eating habits. Ideal for kids ages 3 - 13.

Clean-up time

Make clean-up time fast and fun. Ideal for kids ages 3 - 12.

Shopping solution

Stop tantrums and nagging. Ideal for kids ages 3 - 8.

Dots and arrows for busy parents

Discipline systems for when you are not around. Ideal for kids ages 3 - 12.

Motivational balls

To train attitude and obedience. Ideal for kids ages 3 - 10.

Animal matters

Teach good manners at the table and in company. Ideal for ages 3 - 12

Quality time cheque book

An idea with the focus on time with your children. Ideal ages 3 - 12.

Sit still and be quiet

A technique to teach toddlers self-control. Ideal ages 2 - 7

A string around their finger

A technique for forgetful children. Ideal for ages 3 - 13.

Treats for tots

Ideas for rewards for children under 5

Building it up

About blocks and puzzles. Ideal ages 3 - 10

Nervous habits

A graceful approach to addressing nail biting and other "fiddles" Ideal ages 3 - 10

Money matters

Teaching your children to save and the concept of paying fines. Ideal ages 4 - 10

Do your duties

Techniques to train the skill of responsibility. Ideal ages 4 - 10

How much longer?

A clock with a difference. Ideal for ages 3 - 7

Healthy habits

Teaching healthy habits - from brushing teeth to watching TV and screen time. Ideal for ages 3 - 12

Memorable moments

A celebration candle! Ideal for ages 3 - 18

Time to get dressed

A tool to reduce clothes clashes. Ideal for ages 3 - 7

Noah's ark

Teaching true obedience. Ideal for ages 3 - 10

Traffic light

Technique for interruptions. Ideal for ages 3 - 12

The playbag

For your little one's restlessness. Ideal for ages 5 - 12 months